We can fit floorboards over existing floor surfaces, or directly onto joists.
Or if the surface is over stone etc that has possible damp etc, then we offer a full service to cover with quality plastic sheeting, batons and insulated boarding which is then covered with the actual floorboards.
This makes the flooring much warmer and leaves the customer feeling safe in the knowledge that no damp will penetrate through the newly laid floor.
Early Stages Of Fitting Reclaimed Timber Floor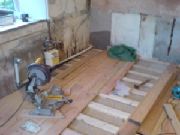 As The Floor Was Not On Ground Level It Did Not Require Plastic Sheeting Or Insulated Boarding Under
A Very Difficult & Awkward Space To Fit A Floor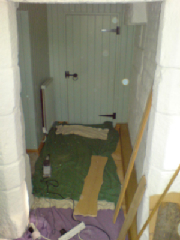 We Used New Pitch Pine For This Particular Job,Lined Under With Insulated Boarding
This Was A Floor Made From Reclaimed Pine
The Boards Were Cut From Originam Beams
A Reclaimed Timber Floor We Fitted Recently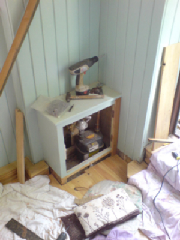 Fitted Onto A Stone Floor At Ground Level Therefore We Protect From Damp With Plastic & Insulation
We Supply our solid timber floors in a variety of sizes and types of timber.
Our most popular types are from new pitch pine, oak or reclaimed pine.
We have displays in our showrooms as well as examples of many different floorboards, we specialise in fitted work and can fit large rooms or small rooms - the size of the order is not a concern.
For advice on how to go about how to order a floor please ring Michael on the mobile number below.
At Falcon Pine we make items of furniture, kitchens & fitted wardrobes from new timber which we insist on only buying from timber yards that purchase from sustainable pine forests.
But as well as timber floors from new timber, we fit using reclaimed timber which is the preffered option as we really are a company that cares for the world in general & by offering this service we feel we are doing our bit for the environment.